BILLY CHILDISH & MUSICIANS OF THE BRITISH EMPIRE – christmas 1979
---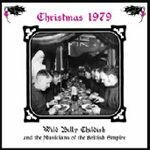 Midprice CD! * Jedes Jahr bringt die legendäre Firma Damaged Goods ein Weihnachts Release. Diese Jahr ist Billy Childishdran, und der alte Knochen lässt sich nicht Lumpenund macht gleich ein ganzes Album. Hier einige brandneue Tracks zu dem Fest der Liebe und umgeschriebene Childish Klassiker mit so schönen Titeln wie z.B.: Knick Knack, Paddy Whack (Chuck It In The Bin) / Father Christmas Is Dressed In Green / Pete Townsend's Christmas / Link Wrays Christmas / Merry Christmas Fritz / Christmas Hell / Christmas 1979 .... * Damaged Goods.
Lieferzeit ca. 4-7 Tage *
Mehr von BILLY CHILDISH & MUSICIANS OF THE BRITISH EMPIRE
Vielleicht gefällt dir auch
+49 (0)761 208 990
0163-6276994
@flight13.com
Mo - Fr 10 - 18 Uhr
Sicheres Shoppen
Portofrei ab 50,00€ innerhalb Deutschlands!