BON VIVANTS – black honey (CD)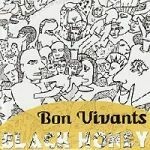 Post-punk 'n folk-rock (NOT "freak folk"--eeek!), power-pop 'n acid-rock, howlin' at the Georgia moon like a lonely 16-year-old geek even as you stare at so-called middle-age in defiance. Television Personalities Soft Boys Swell Maps 'n Mr. Barrett hisself--post-Cale VU and the ghost of Arthur Lee--kids still 70s-drunk and runnin' free! SNAP! MANGLE! POP! The Bon Vivants come from Atlanta, Georgia. That's Ben Young (rhythm and freak guitars, vocals), Rob Parham (rhythm and lead guitars), Ben Lawless (bass), and Jeff Patch (drums). In 2006, they released a 10" record called SOUL ACTION. It came out on Ben's Old Gold label, which has generally released noise, improv, and experimental stuff. The members of the Bon Vivants worked their way through all of those more outside approaches before settling on a song format for this band. It adds a lot to what they're doing now: the deep knowledge of noise and improv combined with structured pop-rock songs. And on their new Gulcher CD, things come into even sharper focus--the lo-fi cassette sound of SOUL ACTION is gone, revealing the band in crystal clarity and sounding better than ever.
CD 12,50€* Lieferzeit ca. 1-2 Wochen**
* alle Preise inkl. MwSt. zzgl.
Versandkosten
** sofern beim Lieferanten verfügbar
---
---
Sicheres Shoppen
Portofrei ab 75,00€ innerhalb Deutschlands!
* alle Preise inkl. MwSt. zzgl.
Versandkosten
** sofern beim Lieferanten verfügbar