DM BOB & DEFICITS – bush hog´n
---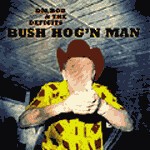 This is their 12-cut second album, chockfulla nine originals & three covers: "Girl Roper," A Cowboy S&M update of the cheeseball BOB KUBAN hit "I'm A Girl Watcher." "Flyin' Fuck," inspired by a combination of a certain lackluster audience and EDDIE KIRK's prime '63 STAX ripper, "The Hawg" * Crypt.
LP 17,90€

*
Lieferzeit ca. 1-2 Wochen
Lieferzeit ca. 1-2 Wochen *
Mehr von DM BOB & DEFICITS
Vielleicht gefällt dir auch
Sicheres Shoppen
Portofrei ab 75,00€ innerhalb Deutschlands!