MICHAEL STREISSGUTH – outlaw: waylon, willie, kris, and the renegades...
---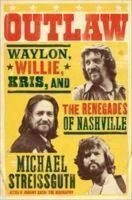 ...of Nashville * A definitive look at the outlaw country music movement, "Outlaw" follows the stories of three legendary icons--Willie Nelson, Waylon Jennings, and Kris Kristofferson--as they redefined country music in the late '60s and early '70s, set in the rich backdrop of Nashville. *Harper Collins
PA geb 20,94€* Lieferzeit ca. 1-2 Wochen**
* alle Preise inkl. MwSt. zzgl.
Versandkosten
** sofern beim Lieferanten verfügbar
Sicheres Shoppen
Portofrei ab 75,00€ innerhalb Deutschlands!
* alle Preise inkl. MwSt. zzgl.
Versandkosten
** sofern beim Lieferanten verfügbar