NEIL DANIELS – reinventing metal: the true story of pantera...
---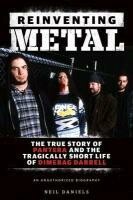 Englisches Buch! Vollständiger Subtitle: "The True Story Of Pantera & The Tragically Short Life Of Dimebag Darrell". Pantera is widely regarded as one of the most influential and revered American metal bands of the past 20 years. Although its output was relatively short - from 1983 to 2000 it released only nine studio albums-its impact on the metal scene since the band split up in 2003 is still felt to this day. Guitarist Dimebag Darrell was tragically killed in 2004 but his legacy remains undiminished. Pantera had an enormous influence on nu-metal, groove metal, metalcore, and grindcore and continues to be publicized and written about. Its 1990 breakthrough album Cowboys from Hell is still regarded as one of the greatest metal albums in history, as is Pantera's sixth opus, Vulgar Display of Power. * Hal Leonard Pub. Co
PA 17,50€

*
Lieferzeit ca. 1-2 Wochen
+49 (0)761 208 990
0163-6276994
@flight13.com
Mo - Fr 10 - 18 Uhr
Sicheres Shoppen
Portofrei ab 75,00€ innerhalb Deutschlands!