POLITE SLEEPER – seens
---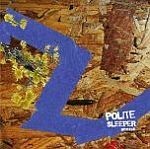 Nach dem super Mini-Album direkt der Longplayer: "Polite Sleeper is a folk punk mess. Polite Sleeper is about doing more with less. From three-piece trap kits to playing without a bass, the songs are as divergent as they are raw. Each a story sounding as if John Darnielle was fronting the Microphones or a working man's Xiu Xiu. Keyboards, banjo and pedal steel might round out a few programmed beats or a piano stomp, otherwise, very little is kept that can't be performed live. And what started as a bedroom project between friends finally coalesced with a proper full length written and recorded throughout Brooklyn in 2007. More self-assured and playful than previous efforts, the debut balances the whispered lullabies with the screaming sing-a-longs – from country to folk to punk, it's an authentic, earnest document of where three friends ended up after landing on the East Coast with a new plan. But most important Polite Sleeper is still a punk band. They're 100% DIY, choosing to record in living rooms and kitchens exclusively" * Sabotage.
* alle Preise inkl. MwSt. zzgl.
Versandkosten
** sofern beim Lieferanten verfügbar
Vielleicht gefällt dir auch
Sicheres Shoppen
Portofrei ab 75,00€ innerhalb Deutschlands!
* alle Preise inkl. MwSt. zzgl.
Versandkosten
** sofern beim Lieferanten verfügbar