THREE TRAPPED TIGERS – route one or die
---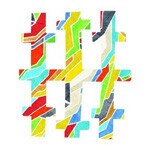 Nachdrücklich führen die Londoner hier den beweis, dass man zu Progrock das Tanzbein schwingen kann. Auf diesem ziemlich phänomenalen Instrumentalalbum, auf dem peitschend-paukende Drumkanonaden für den donnernden, trickreichen Grooveteppich sorgen, über dem brilliant agierende Gitarren abwechselnd für aufregende Noisemomente und Melodien sorgen, mit elektronischen Effekten und Synthie-Sounds rangeln und der Bass mit leichter Angebratzheit strukturierend agiert. Zwischen Jazz, Postrock, Postmetal, Hardcore, Warp- und Wave-Electronica und geisterhaftem Progrock geht hier einiges. Ein echtes Spektakel. *Blood and Biscuits.
CD 15.50€

*
delivery time about 4-7 days
More of THREE TRAPPED TIGERS
Perhaps you'll like as well
+49 (0)761 208 990
0163-6276994
@flight13.com
10am - 6pm, Mo - Fr
Secure shopping
Spend 50.00€ for free delivery within Germany!