TRINA ROBBINS – pretty in ink: north american women cartoonists...
---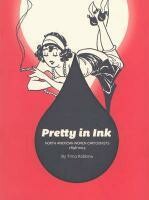 Achtung, Lieferzeit mindestens 10 Tage * Englisches Buch! In the 21st century, women cartoonists have more opportunities than ever before: graphic novels in bookstores and libraries, and comics on the Internet, have created audiences for influential books such as Persepolis (Marjane Satrapi), Fun Home (Alison Bechdel), What It Is (Lynda Barry), and Hark! A Vagrant (Kate Beaton). Trina Robbins' lavishly illustrated Pretty in Ink shows that, although the comics field was dominated by men, beginning in 1896 and throughout the 20th century, more women have been professional cartoonists than people previously thought. Robbins showcases cartoonists such as Lily Rene´e — an Austrian woman who escaped from Nazis, only to draw action/adventure comics exploits as exciting as her own — and Eva Mirabal, a Native American corporal whose G.I. Gertie strip showed the wacky side of the Women Army Corps (WAC). Trina Robbins is and has been the preeminent scholar of comics " herstory" for more than 30 years, and those new to comics and longtime fans alike will find much to discover in this updated and comprehensive volume. 179 Seiten. * Fantagraphics Books
PA 22,50€* Lieferzeit ca. 1-2 Wochen**
* alle Preise inkl. MwSt. zzgl.
Versandkosten
** sofern beim Lieferanten verfügbar
Sicheres Shoppen
Portofrei ab 75,00€ innerhalb Deutschlands!
* alle Preise inkl. MwSt. zzgl.
Versandkosten
** sofern beim Lieferanten verfügbar