TV GHOST – cold fish
---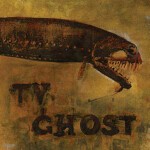 Debüt Album der Band aus Lafayette, Indiana, die zuvor eine 7" und 12" auf Stasi Records hatten. Nicht ganz typischer In the Red Sound, eher noisiger, ziemlich konkreter Art-Punk, der manchmal auch ganz schön an den Nerven zerren kann. Sirrende Gitarren, die wir auch von frühen Man-or Astroman kennen, schräger Sound der mich an die Cramps erinnert, und ein Schuss No Wave mit verrückter Orgel (Hallo Devo) - alles ziemlich "hallig" aufgenommen. 10 Tracks für den Abgrund deiner Seele, passend zum Bandnamen. Kann was! * In the Red.
Perhaps you'll like as well
+49 (0)761 208 990
0163-6276994
@flight13.com
10am - 6pm, Mo - Fr
Secure shopping
Spend 75.00€ for free delivery within Germany!