VASELINES – enter the...
---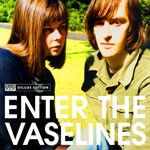 Ein Stück Geschichte. Ihr größter Fan war Kurt Cobain, der das Duo als einen seiner wichtigsten Einflüsse nannte. 1990 war schon wieder alles vorbei, nach 2 EPs und einer LP lösten sie sich auf - bis sie 2008 urplötzlich wieder auf einer Bühne in Seattle auftauchten (und sie wollen definitiv keine neue Platte machen...). Trotzdem erscheint ihr Erbe in polierterem Glanz in Gestalt dieser Compilation, die die 3 Releases komplett umfasst (und als "Way of the vaselines" auch schon erhältlich war...) und in neuem Artwork und mit 17 bislang unveröffentlichten Live-Songs/Versionen/Demos erstrahlt. Zudem alles neu remastered. CD als Digipak. *Sub Pop
CDx2 17.90€

*
delivery time about 1-2 weeks
LPx3 27.90€

*
delivery time about 1-2 weeks
Perhaps you'll like as well
+49 (0)761 208 990
0163-6276994
@flight13.com
10am - 6pm, Mo - Fr
Secure shopping
Spend 75.00€ for free delivery within Germany!