WHISKEY & CO – rust colors
---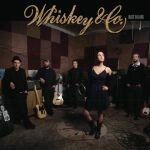 Farbiges Vinyl inkl. Download-Code und Textbeiblatt! * Drittes Album der Country-Supergroup! Bittersweet, melancholy tales of failed relationships, liquor, and vice. Haben ihren Sound weiter verfeinert und sind noch einen Tick eingängiger ohne das Tanzfußwippen außen vor zu lassen. Im Vordergrund Kims´ tolle Frauenstimme (bei "long lonely nights" und "long way down" singt Brian Back-Vocals), dazu schlagen die Akustik-Gitarren, die Drums grooven, der Bass zupft dezent den Rhythmus. Banjo, Bottleneck und Geige gibt´s als Ad-ons. Country meets Americana mit einem Schuß Folk und Acoustic-Punk. Aus einem Roh-Diamant ist ein wundervoller Edelstein geworden. Super Scheibe, Anspieltipp "catch my fall" * No Idea.
LP+MP3 21,90€

*
Lieferzeit 1-3 Tage
Vielleicht gefällt dir auch
+49 (0)761 208 990
0163-6276994
@flight13.com
Mo - Fr 10 - 18 Uhr
Sicheres Shoppen
Portofrei ab 50,00€ innerhalb Deutschlands!