BIG TALK – s/t
---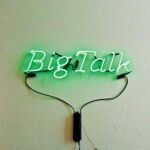 Großes Gerede aus den Staaten: Wer verbirgt sich hinter Big Talk? Kleine Hinweise: Das selbst betitelte Debütalbum entstand zusammen mit dem Produzenten Joe Chicarelli (The Strokes, My Morning Jacket) in Las Vegas im Studio einer nicht unbekannten Band namens The Killers. Und ja, gemischt hat es Alan Moulder (U2, Foo Fighters und: The Killers) und ein gewisser Ronnie Vannucci (The Killers) ist auch dabei. Der Schlagzeuger und Co-Songwriter der US-Rockhelden (über elf Millionen verkaufte Alben) kennt ein gutes Rezept gegen Unterbeschäftigung im Rockbiz: eine eigene Band gründen. Denn in Wahrheit ist Vannucci viel mehr als der Mann an der Killers-Schießbude. Er ist ein wahrer Multiinstrumentalist, ein toller Sänger und schrieb mit "Big Talk" den Soundtrack für den Sommer 2011. Für Fans von The Cars, 80er-Jahre-US-Radio-Pop und ja, The Killers * Epitaph.
CD 16.90€

*
delivery time about 1-2 weeks
LPx2 22.90€

*
delivery time about 1-2 weeks
Perhaps you'll like as well
+49 (0)761 208 990
0163-6276994
@flight13.com
10am - 6pm, Mo - Fr
Secure shopping
Spend 75.00€ for free delivery within Germany!