BILLY CHILDISH – archive from 1959 - b.c. storry
---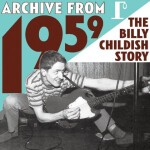 Wow, eine umfassende Retrospesktive des großen Musikers, Dichters, Malers und Produzenten. In seiner nun mehr 30 jährigen Karriere hat er fast unzählige (an die 120!) Alben veröffentlicht und diverse andere Artefakte produziert. Hier 51 Tracks die z.T. ewig vergriffen waren oder noch nie auf CD erscheinen sind. Rock`n`Roll Tracks u.a. von den Pop Rivets, Milkshakes, Thee Mighty Cesars, Thee Headcoats, Buff Medways, Musician of the British Empire und Chatham Singers. Natürlich mit massig Fotos und Linernotes. Geht immer! * Damaged Goods.
CDx2 17,90€

*
Lieferzeit ca. 4-7 Tage
Vielleicht gefällt dir auch
+49 (0)761 208 990
0163-6276994
@flight13.com
Mo - Fr 10 - 18 Uhr
Sicheres Shoppen
Portofrei ab 50,00€ innerhalb Deutschlands!