EASY STAR ALL-STARS – dubber side of the moon
---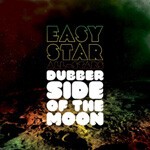 Die 2003 erschiene Reggae Version des Pink Floyd Klassikers "Dark side of the moon" war zurecht Publikums- und Kritikerliebling, 7 Jahre später folgt jetzt das Version Album von "Dub side of the moon". Easy Star hat die angesagtesten Nu-Dubber alter & neuer Schule engagiert, die hier das maximum an Drum´n´Bass-ness aus den Riddims kitzeln. Nebst u.a G-Corp, 10 ft. Ganja Plant, Alchemist, etc. begeistern wie nicht anders zu erwarten die Remixe von Dreadzone (im vorhersehbaren four-to-the-floor-Beat), Victor Rice mit einer ganz old-skooligen Variante im King Tubby Stil, sowie Altmeister Adrian Sherwood, der zusammen mit Jazzwad die Hymne "Brain Damage" zerlegt * Easy Star.
LP 18,50€

*
Lieferzeit ca. 4-7 Tage
CD 16,50€

*
Lieferzeit ca. 4-7 Tage
Mehr von EASY STAR ALL-STARS
Vielleicht gefällt dir auch
+49 (0)761 208 990
0163-6276994
@flight13.com
Mo - Fr 10 - 18 Uhr
Sicheres Shoppen
Portofrei ab 50,00€ innerhalb Deutschlands!