FREE AGENTS – 3.33
---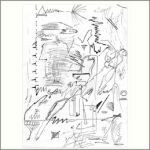 Drag City presents reissues of the avant-garde DIY label Groovy founded by PETE SHELLEY (BUZZCOCKS) and FRANCIS COOKSON. FREE AGENTS was the first of the lot, with an album named after its price, £3.33. Cookson took live performance tapes from a TILLER BOYS show (a conceptual band featuring himself, ERIC RANDOM, and, when available, Shelley) and added some additional recordings using tape loops, feedback and anything else he could get on there. It ranged around from post –"Revolution 9" collage to wack beats that one might associate with the emergent krautrock to stark industrial moments, flowing into each other with an organic, freely improvised quality. Packaged in 12" sleeves with photocopies of Cookson scribbles pasted on the front and back, Free Agents was DIY all the way * Drag City.
LP 17,90€* Lieferzeit ca. 1-2 Wochen**
* alle Preise inkl. MwSt. zzgl.
Versandkosten
** sofern beim Lieferanten verfügbar
Vielleicht gefällt dir auch
Sicheres Shoppen
Portofrei ab 75,00€ innerhalb Deutschlands!
* alle Preise inkl. MwSt. zzgl.
Versandkosten
** sofern beim Lieferanten verfügbar