JOE KEITHLEY – talk-action=0: an illustrated history of d.o.a.
---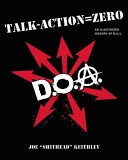 The punk band D.O.A., established in 1978, is considered one of the founders of hardcore punk, alongside such other seminal groups as Black Flag and Minor Threat. Their raw, melodic sound, which drew comparisons to the Clash and the Ramones, has always been matched by the band's acute political sensibility; known for its uncompromising and outspoken anarchist viewpoints, D.O.A. has been active on behalf of many issues, including anti-racism, anti-globalization, freedom of speech, women's rights, and the environment. Its slogan, "Talk – Action =0," refers to the importance of artists and others who need to "walk the walk" when it comes to their politics. After more than thirty years, D.O.A. remains as active as ever, touring internationally (including a trip to China, the first punk band to do so) and recording regularly (their thirteenth studio album was released in 2010); their fanbase now spans three generations. This large-format book is a sprawling visual history of the group by lead singer/guitarist Keithley—made up of vintage photographs, posters, handwritten lyrics, and other various ephemera—that offers a visceral glimpse into the hardcore life of one of the hardest-working punk bands in the business. *Arsenal Pulp Press
PA 17,90€* Lieferzeit ca. 1-2 Wochen**
* alle Preise inkl. MwSt. zzgl.
Versandkosten
** sofern beim Lieferanten verfügbar
Vielleicht gefällt dir auch
Sicheres Shoppen
Portofrei ab 75,00€ innerhalb Deutschlands!
* alle Preise inkl. MwSt. zzgl.
Versandkosten
** sofern beim Lieferanten verfügbar