RADIO 4 – s/t
---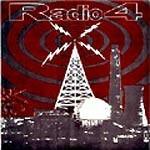 Ex-Garden Variety mit dem Debüt und 3x genialem Postpunk auf Gern Blandsten, wobei Gang Of Four und Ruts Pate standen. A-Seite "communication" vom Album in rauherer Version, B-Seite mit "beat around the bush" und einem unveröffentlichten * Gern Blandsten.
7" 6.50€

*
delivery time about 4-7 days
Perhaps you'll like as well
+49 (0)761 208 990
0163-6276994
@flight13.com
10am - 6pm, Mo - Fr
Secure shopping
Spend 50.00€ for free delivery within Germany!