REVELATORS – we told you not to cry
---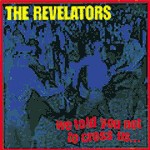 Jeremiah belts out a screechin´ vocal over the thumping pound of Mark´s drumkit while guitman Schooley (Hard Feelings) jumps from bottleneck slide to buzzsaw blast! A stripped-down gutteral roar that reeks to high hell of some sick blend of punked-out southern hillbilly, Sonics-y northwest white-boy R&B! Schweiß, Garage, Punk, Gitarren, Crypt, Fuzz, rockt, schnell * Crypt.
LP 17,90€

*
Lieferzeit ca. 4-7 Tage
Lieferzeit ca. 4-7 Tage *
Vielleicht gefällt dir auch
+49 (0)761 208 990
0163-6276994
@flight13.com
Mo - Fr 10 - 18 Uhr
Sicheres Shoppen
Portofrei ab 50,00€ innerhalb Deutschlands!