TH´ INBRED – legacy of fertility (vol. 1)
---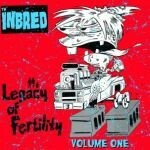 Re-issue! Political punk influenced by the Dead Kennedys, Minutemen, Crass, Black Flag. Limited to 1000 copies on colored vinyl. Contains the Reproduction EP and A Family Affair LP produced by Paul Mahern of The Zero Boys. 18 Tracks. * AT.
LP 17.90€

*
delivery time about 4-7 days
Perhaps you'll like as well
+49 (0)761 208 990
0163-6276994
@flight13.com
10am - 6pm, Mo - Fr
Secure shopping
Spend 50.00€ for free delivery within Germany!