TH´ INBRED – legacy of fertility (vol. 2)
---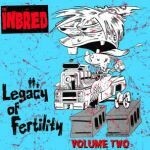 Re-issue! Political punk influenced by the Dead Kennedys, Minutemen, Crass, Black Flag. Limited to 1000 copies on colored vinyl. Contains the Kissin Cousins LP and the bonus songs. LP produced by Paul Mahern of The Zero Boys. 17 Tracks * AT.
LP 17,90€

*
Lieferzeit ca. 1-2 Wochen
Vielleicht gefällt dir auch
Sicheres Shoppen
Portofrei ab 75,00€ innerhalb Deutschlands!